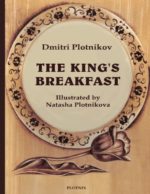 In 1971 Natasha was separated from her six year old son, Mitya, for two years. She loved and missed him very much. She thought about him during the long nights in the remote town where her husband, an Air Force officer, was stationed. She decided to illustrate her favorite children's story for Mitya. "The King's Breakfast" is the book that she made.
Dmitri Plotnikov is Natasha's son. She called him Mitya. He kept and cherished his mother's hand-drawn book for forty five years after Natasha drew it for him. He wrote English words that would go along with the drawings. He could think of no greater joy than that of making something together with his beloved mother. Now he could finally share the treasure of these drawings with the world.
You can purchase the book in paperback on
The illustrations look absolutely gorgeous on paper. The book will make a perfect gift for anyone who appreciates fine art.
We donate 50% of proceeds to
Autism Speaks.
Here are a few pages from the book.